Minister of National Defence Hulusi Akar made a statement about the Ramjet Engine air to air missile at the HGK-82 delivery ceremony.
A military protocol was signed between the Ministry of National Defence and its subsidiary ASFAT A.P. As part of the protocol, the delivery ceremony of 1,000 HGK-82 Precision Guidance Kits was held under the main contractor of ASFAT with the technical support of TUBITAK SAGE. The ceremony held at the 3rd Air Maintenance Factory Directorate in Etimesgut was attended by Minister of National Defence Akar and Minister of Industry and Technology Mustafa Varank as well as Chief of General Staff General Yaşar Güler and Force Commanders.
Minister of Industry and Technology Mustafa Varank speech at the ceremony,
"The HGK-82s we have delivered today; It is the first batch of which production was completed within the scope of a total of 1000 kits project carried out in partnership with ASFAT-TÜBİTAK SAGE. It will be completely delivered by August 2022."

Development activities are carried out by TÜBITAK SAGE and mass production of the product is carried out by ASFAT.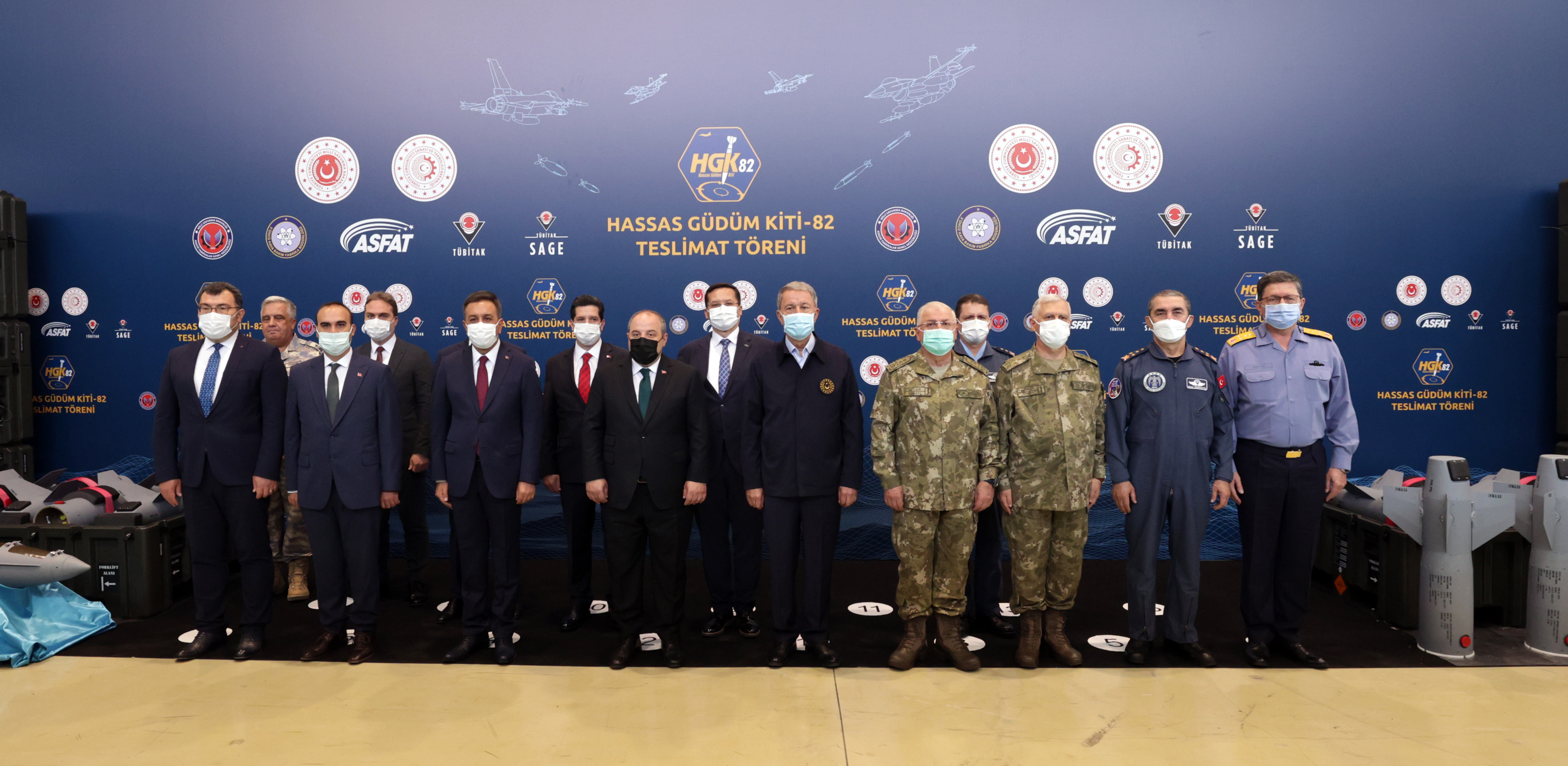 Speaking at the Precision Guidance Kit-82 delivery ceremony, Minister Akar announced to the public that the name of the new ramjet-engine air-to-air missile is "Gökhan".  Also, Minister Akar made his statements.
TÜBİTAK SAGE Institute Director Gürcan Okumuş said that more than 100 firing tests were carried out within the scope of ramjet engine trials. TÜBİTAK SAGE Institute Director Gürcan Okumuş was the guest of the 18th episode of the "Ağ Merkezli Sohbetler" program organized on the Defence Turk Youtube channel. Gürcan Okumuş,
"We are currently testing the ramjet with our own testing infrastructure. There is still work to be done, but since we have a testing infrastructure, for example, we have probably been able to conduct more than 100 ignition tests so far. Without this infrastructure, we will do this with much more difficult facilities, expensive conditions. At this point, Turkey has recorded an important stage. This is a pleasing development." 
made statements.
Test Infrastructure and Importance
Gürcan Okumuş, director of TÜBITAK SAGE Institute, emphasized that test infrastructures are very important,
"Test infrastructures are very important especially for countries like ours. In other words, test infrastructures become more important when financing budgets are even more limited. We can get the results we want in the first shots of the Göktuğ missile.A test is close to a million dollars. We're talking about very expensive products. Infrastructures are very important in this sense."

"TÜBİTAK SAGE has very advanced test infrastructures at this point"
Gürcan Okumuş stated that very serious infrastructures are developed at TÜBITAK SAGE today,
Starting with the SOM project in 2005, we can conduct all tests of a cruise missile at different altitude, different weather conditions with our own infrastructure, which we call a fully integrated test.That's a really big advantage. And we hardly encountered any surprises. Of course, you see some things in real shooting tests, but test infrastructures are very important in this sense. SAGE has very advanced testing infrastructures at this point. We use it in our own projects. We also open these infrastructures to all companies in the sector. Many companies can also perform their tests with us. We have the infrastructure to perform many engine tests, including TEI. We do some of them. This is a very important issue.

On the one hand, there are of course environmental tests. Especially in aircraft munitions, this is even more prominent. I always give an example of this: Consider the temperature of the runway, the temperature of the plane in the heat of August. You have a munition exposed to 50-60 degrees. The plane is taking off. There is a condition that you can see -40's at an altitude of 30-40 thousand feet in 3-5 minutes.

Our environmental tests are also very heavy. So in terms of both environmental tests and integrated tests and system tests, you need this to be able to get products out of the calendar faster at a lower cost. I don't know how true it is, but it's usually mentioned in open sources."
Okumuş also mentioned the need for wind tunnels within the scope of test setups:
 "Our biggest shortcoming right now is the wind tunnel. Unfortunately,we're late but we have taken the necessary steps.An investment in a subsonic vertical wind tunnel is currently underway in TAI. Began investment in an ultrasonic wind tunnel at SAGE. In a few years, we will have solved the wind tunnel issue. This was our biggest gap in testing infrastructures right now. So we were dependent on abroad. Unfortunately, we go abroad for our own projects and other defense industry organizations' own projects. We also have to pay a lot. Hopefully, we will close the subject at the end of 2023."
made statements.