The Ministry of Defence of the Philippines announced that the contract for the supply of T129 Atak helicopters is 270 million dollars.
In the statement made by the Ministry of Defence of the Philippines, it was indicated that the first two of the 6 T129 Attack Helicopters to be procured from Turkey are expected to be delivered in September 2021.
"Based on the latest developments, we expect the first two units of the T129 Attack Helicopters for the Philippine Air Force to be delivered this September"
said Dir Arsenio Andolong, Spokesperson for the Philippines Ministry of Defence.
It was reported that a total of six T129 ATAK Attack Helicopters were purchased from the Turkish Aerospace Industries, through the government-to-government sales channel, under a contract for a total value of 269,388,862 USD.
Following delivery in September 2021, the remaining four T129 ATAK helicopters are expected to be delivered in February 2022 (two) and February 2023 (two), respectively, according to the Ministry.
Filipino personnels are at TUSAŞ for T129 ATAK training
Following the completion of the approvals for the sale of the T129 ATAK helicopter to the Philippines, the pilots and crews of the Philippine Air Force's 15th Attack Squadron will undergo T129 ATAK helicopter training at TUSAŞ facilities in Ankara. While the relevant training is planned to continue between May 2021 and August 2021, the Philippine Air Force will keep sending off pilots and experts to Turkey for training on T129 ATAK attack helicopter operations in the future.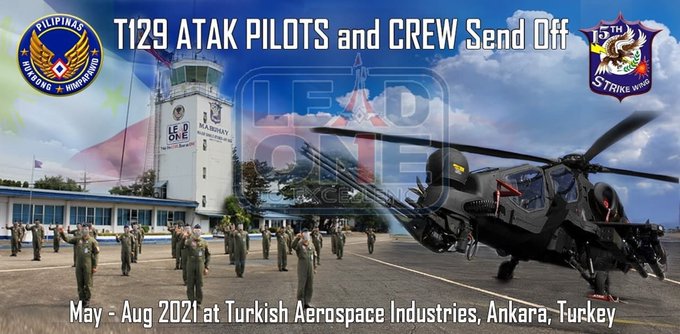 Export of T129 ATAK helicopter to Philippines approved
TUSAŞ Corporate Marketing and Communications President Serdar Demir was the guest of the "Yıldız Technical University Defense Industry Days" event. During the event, where Defence Turk was one of the press sponsors, Serdar Demir gave information about the status of the systems developed during his speech. Demir mentioned the significance of the export of the T129 ATAK Helicopter.
Serdar Demir touched upon the latest situation regarding the export of the T129 ATAK Helicopter, developed by TUSAŞ, to the Philippines and Pakistan. Stating that the Congress approval process in the USA for the permits of ATAK helicopters planned to be exported to Pakistan is still continuing, Serdar Demir expressed that the necessary permits have been obtained for the planned export to the Philippines.
This process was first mentioned by TUSAŞ General Manager Temel Kotil, who was a guest on CNN Türk's "Ne oluyor (What's happening)" program in April 2021. Kotil said that the US approved the export of the ATAK helicopter to the Philippines and indicated that the production of T129s to be exported to the Philippines will be started in the coming months.
The Philippine Air Force (PAF) technical working group first selected the T129 ATAK helicopter for the attack helicopter program in late 2018. Since then, the sale of the platform to the Philippine Air Force has been delayed due to export restrictions of the T129 ATAK's US-made LHTEC CTS800-400A engine.
In a statement made by the Philippines Ministry of National Defense (DND) in July 2020, it was announced that the Philippines retained its intention to purchase the T129 ATAK platform despite the problems Turkey had in exporting the helicopter. DND Public Relations Chief Arsenio Andolong said, "DND will move forward with the acquisition of the T129 ATAK offered by Turkish Aerospace Industries. We will require Turkey to undertake certain guarantees before the takeover."