Minister of National Defence Hulusi Akar with Chief of General Staff Four-star General Yaşar Güler, Commander of Turkish Land Forces Four-star general Ümit Dündar, Commander of Turkish Air Forces Four-star General Hasan Küçükakyüz, Commander of Turkish Naval Forces Four-star Admiral Adnan Özbal and National Defence University Rector Prof.Dr. Erhan Afyoncu attend inauguration ceremony of NATO Maritime Security Centre of Excellence (MARSEC COE) in Istanbul. In his speech Minister Akar said that while Turkish Armed Forces defending the country and 84 million citizen, although the pandemic circumstances,  contribution to NATO continues.
Minister Akar Also stated that those Centres of Excellence are the keystone for NATO's transformation and added "In 2005 Tukey established Defence Against Terrorism Centre of Excellence for contribution to Alliance and today we establish NATO Martime Security Centre of Excellence Command with faith of creating global brand and leardership in Maritime Security Military Projects. In addition to sponsorship 14 of 27 Centres of Excellence, we are very happy to host this kind of organisation. With contribution of  NATO and its Allies Maritime Security Centre of Excellence Command, fullfill maritime security training, research, development ant joint workability areas which are currently contains gap and contributes significantly NATO's joint spirit.".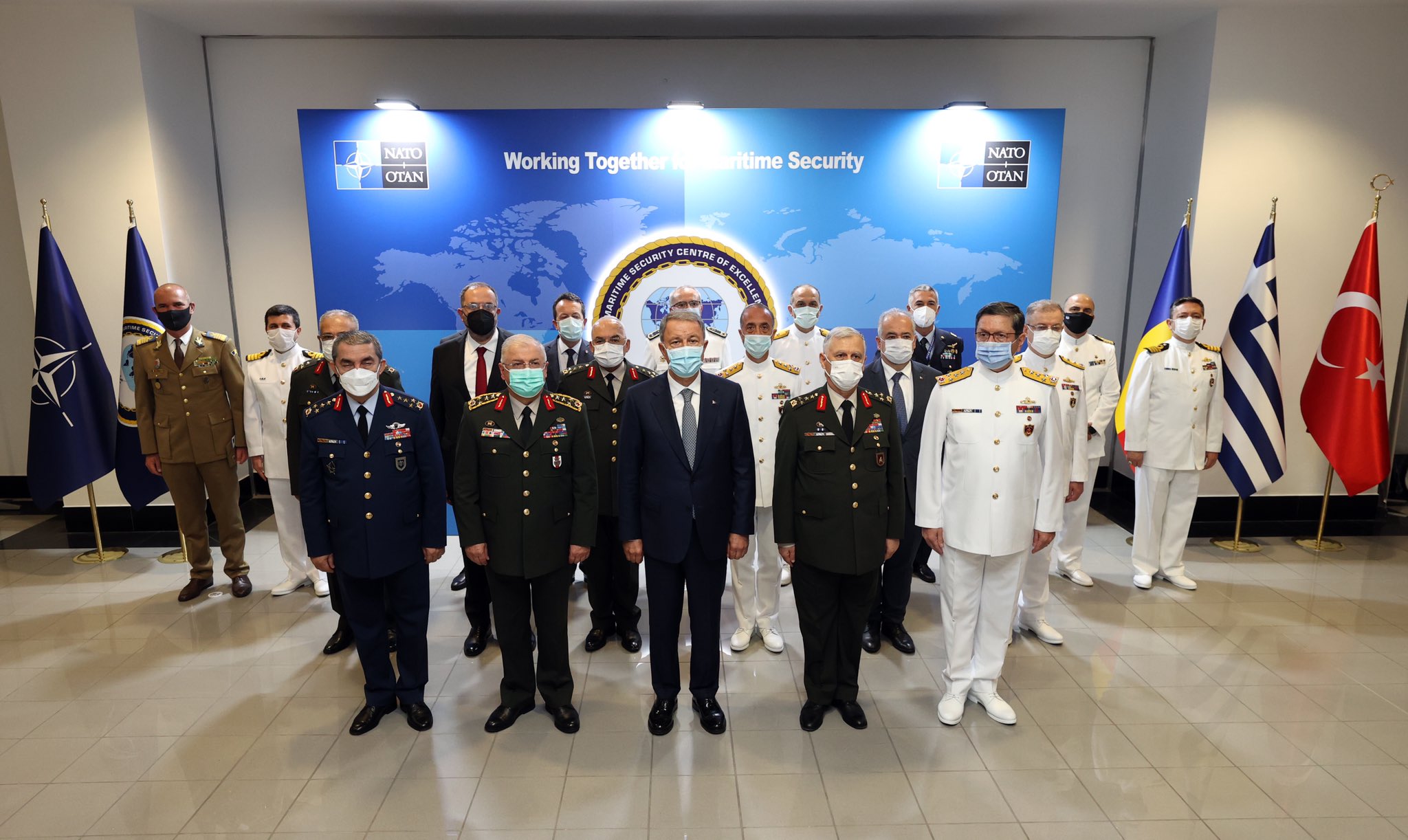 In such a era that both globally and locally risk, threats and dangers are incresing Alliance's cooperation is becoming more and more important, said Minister Akar and continued with:
"We are firmly believed that as Turkey, NATO, protects its reason of existance and its importance gradually increasing. For this reason Allience has to strenghthen more and within real ally spirit we need work jointly. Turkey with being second biggest army  in NATO, shares Allience's load and values and puts NATO to center of its own security as well as being center of  NATO's own security. Also, Turkey is first in terms of contribution of force, with joint participation, structure of command included, NATO mission, operation, based headquarters based,  with nearly 3 thousand personel, Turkey is in top five in the ranking. In addition to this, nearly 2 percent of gross national product, contribution to military budget, Turkey is in top 8 country in ranking. I want to mention specifically, Turkey despite of dealing with its regional risks, threats and dangers, also contributes and attends Allience's military exercises, force structure and strength. Thus Turkey protecs NATO's and Europa's borders no mattter what from terrorism, smuggling and human trafficking."
We Are The Biggest NATO Country That Shouldering The Burden

Minister Akar also mentioned that Turkey is currently hosting 4 milion Syrian refugee without any racial, religional, secratarial and languistic discrimination and in the north of the Syria, Turkey is trying to create, and support normal living conditions approximately 5 million Syrian people. In addition to this alongside all of those situations, Turkey successfully fullfilled NATO's VJTF Land mission.
Minister Akar said that they expected other Allience countries participation to TURMARFOR which will operate fully starting with 2022 and provide to undertake  NATO's component comand navy duty.
Akar also mentioned about terrorism and stated that:
"Our NATO Allies fighting against terrorism globaly with determination but unfortunately they did not show same effort for PKK/YPG terrorist organization. Turkey, called NATO Allies countless time to fight together with PKK/YPG and ISIS which are threathening national security and regional stability. We offered our NATO Allies again and again to providing secure zone and we come in terms for some sort of plans. However those agreements didnt fullfilled and Turkey left alone to counter-terrorism. Turkey is the biggest NATO country that shouldering the burden to ease Syrian people's pain and Turkish Armed Forces is the only NATO army to fight directly ISIS. Our expectation is collaboration with our allies  within scope of  the counter terrorism and standing with us due to Turkey's serius security concerns. We are respect all of our neighbors borders, territorial integrity and sovereignty. We dont looking for any kind of expending. Our fight only against terrorism and terrorist."
Commander of Naval Forces Admiral Özbal
Commander of Naval Forces Admiral Adnan Özbal stated that due to transboundary charasteristic of maritime security the global solution approaches are needed.
With this approach starting in early 2000s  with long and intense installation and accredition process finally constitude NATO linked military oranization as MARSEC COE. Amiral Özbal told that " Maritime Security Centre of Excellence is  Turkey's second NATO's 26th excellence center and with main purpose of fullfiling NATO's maritime security training and information needs.".
Admiral Özbal also mentioned that Turkey will provide and contribute NATO's maritime security deterrence and in this mean they have big responsibility.
Özbal also thanked who support them for providing Allience's and worldwide seas security. Also added " With NATO and Allied countries support this center will be center of attraction for NATO maritime security.".
With more sponsor country, Maritime Security Centre of Excellenes will become information distribution center said Admiral Özbal and "Being Host country we will always support this institution for reaching its goals. We are very excited to providing education and training to standardization, concept and doctrine development for Allied countries. I wish Maritime Security Centre of Excellence success."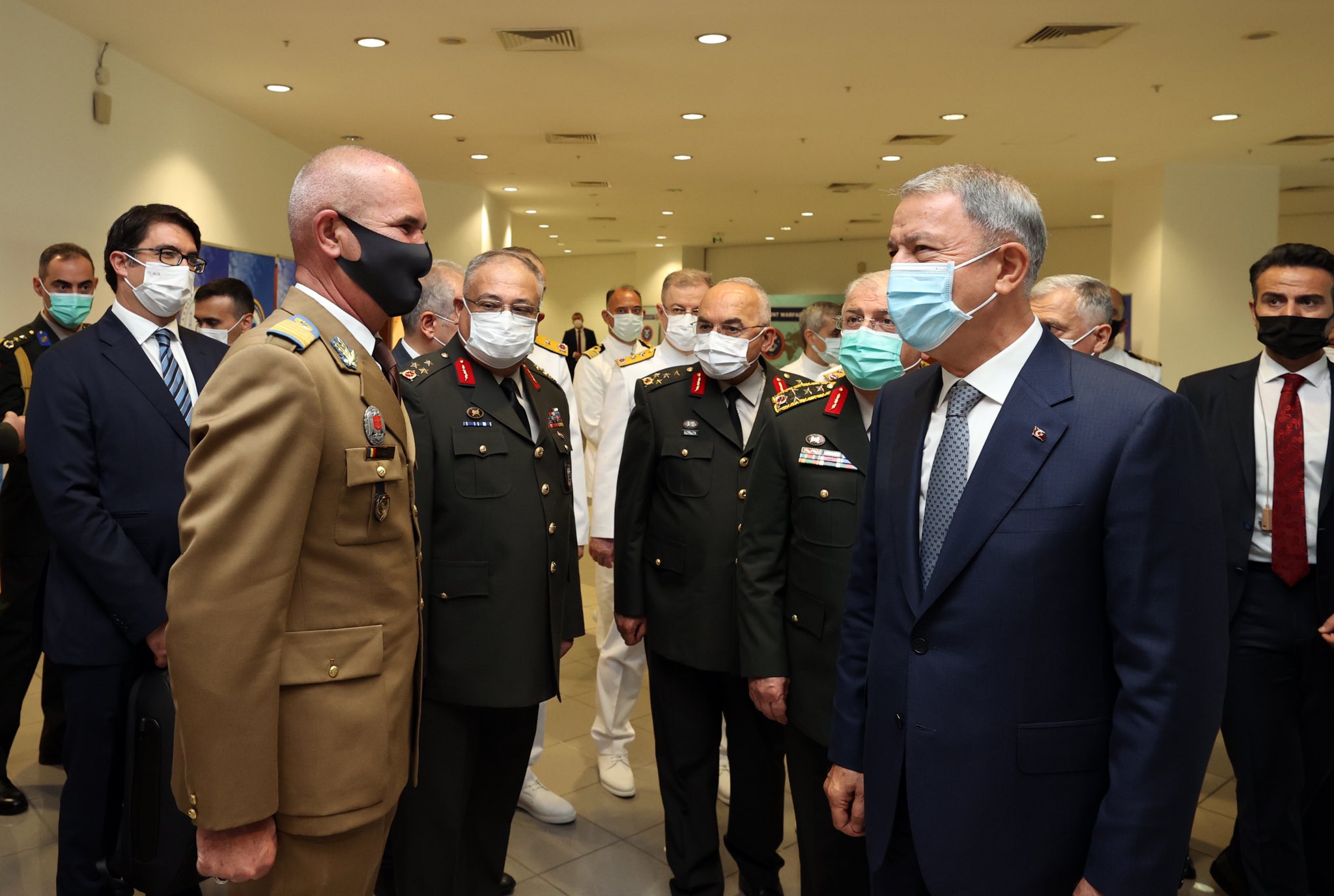 They Sended Video Message
NATO Assistant Secretary-General John Manza, NATO Allied Maritime Commander Vice Admiral Keith Blount and  NATO Combined Joint Operations From the Sea Deputy Director Tom Guy has sended video message and after that Minister Akar and Turkish Armed Forces Superiors cut the ribbon of Maritime Security Cente of Excellence.