AEGIS combats ballistic missile strikes. It protects surface vessels from sophisticated attacks and engages multiple enemy targets with pinpoint precision from under the sea to the upper reaches of the atmosphere simultaneously.
AEGIS is so powerful and so reliable that it has become America's shield and international shield of defense for our allies. AEGIS truely is rocket science at sea and it represents cutting edge ship defense technology. AEGIS also uses its integrated components to to eliminate a variety of threats at different ranges. It can provide critical battlefield intelligence in nanoseconds and it's accurate enough to destroy an enemy missile through the vastness of space. It's like hitting a bullet with a bullet.
The Aegis Weapon System is a seamlessly integrated radar and missile system capable of simultaneous operation defending against advanced air, surface and subsurface threats. A key component of the Aegis Weapon System is the SPY‑1 multi-function phased array radar. It is the world's most advanced and versatile maritime radar, and is scalable to meet the mission needs for a range of ships from corvettes to aircraft carriers.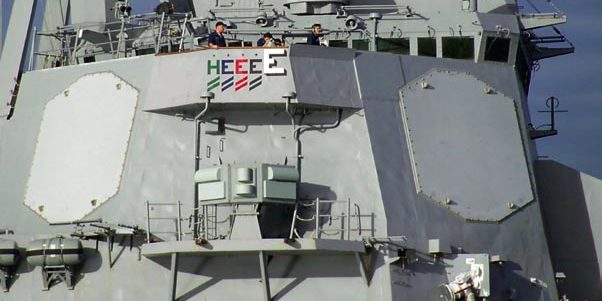 The AEGIS system can be adapted to nearly any ship and even putting them on land. Year after year, AEGIS keeps getting better. The system is designed to welcome new technologies for more range, more accuracy and more advanced networking.
AEGIS is deployed now worldwide; protecting our sailors, our citizens and our partner countries around the world. An AEGIS family who can share data and work together to defend us all. Aegis is interoperable with U.S. and allied forces, providing a sensor net that transforms information superiority into combat power, and acting as a force multiplier. Aegis is designed to evolve with new mission requirements and increasing asymmetrical threats. Aegis OA provides Aegis-equipped ships with affordable, easier and faster adaptation. Additionally, the OA structure, allows international navies to more readily incorporate indigenous systems into Aegis.
All elements of Aegis are already in use in land-based applications that range from development and integration test facilities to launch and production test facilities. Every Aegis system at sea today was fully tested ashore before it was transitioned to ship use. Aegis Ashore with the Standard Missile 3 (SM-3) Combat System is identical to the fielded maritime system.
Prepared by: Sebati Samet Koç